WHERE INFORMATION AND LEADERSHIP MEET.
Cherokee Media Group is a cutting-edge media company recognized for high-quality content and high-impact events that bring together diverse audiences and help shape the future.
OUR PROPERTIES
Timely. Relevant. Compelling.
Cherokee Media Group is the leading news source for the pre-owned automotive industry. Our unrivaled print and digital magazines, along with our popular events, webinars and podcasts, solidify our position in this sector. We also produce the premier print and digital lifestyle magazines in the Triangle region of North Carolina.
OUR PEOPLE
Smart. Talented. Dedicated.
Our team is focused on providing an exceptional experience for our readers, listeners and event attendees. Whether in print, online or in person, we deliver what you need to be successful. We are committed to doing a great job today and a better job tomorrow. We love what we do, but we love exceeding your expectations even more.
OUR IMPACT
Lasting. Meaningful. Positive.
We set the agenda. We drive the conversation. We connect the decision-makers. We strengthen the community. And we've been doing it since 1991. Our goal has always been to provide content and context that help our audiences get ahead and stay ahead. That's why they've relied on Cherokee Media Group for almost 30 years.
CMG BROCHURE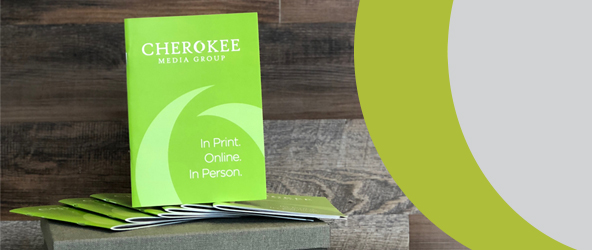 In Print. Online. In Person.
Learn more about our publications and events.
CMG BY THE NUMBERS
0
million emails sent annually
0
annual conferences and events